UKHCA Durga Puja 2021 – Oct 12th to Oct 15th 2021 – Free Pre-registration
Welcome to UKHCA Durga Puja 2021
UKHCA would like to cordially welcome you to join our Durga Puja celebrations in 2021 over 4 days (12 October to 15th October). Like every year we are hoping to organise an open door puja celebration that you can participate in with your friends and family.
However, given the extraordinary times we live in due to Covid, we are humbly requesting you to pre-register and notify us of your attendance for morning and evening slots for all 4 days of the puja.
This will help us estimate number of attendees for food serving purposes and also give us assurance that there would not be over-crowding and the event can be conducted safely.
You do not need to pay or buy a ticket for the puja. The registration is absolutely free and you can do it till 1 day before the day you plan to attend. Although, we would be grateful if you do it as soon as possible so we can plan accordingly.
We want to assure you that our doors will remain open for all attendees within safe limits of capacity of the hall.
We look forward to seeing you during the puja days.
If you have any query about this please email us on ukhca.info@gmail.com. You will also find other helpful information on our website www.ukhca.community
Durga Puja 2021 Schedule
Maha Sasthi and Maha Saptami
Tuesday 12th October 2021
1PM to 3PM: Bodhan | Amantran | Anjali | Prosad Bitoron | Arati
5PM to 7PM: Saptami Puja | Anjali | Bhog | Prosad Bitoron | Arati
Maha Ashtami
Wednesday 13th October 2021
12PM to 3PM: Ashtami Puja | Anjali | Bhog | Prosad Bitoron | Arati
7PM to 8PM: Sandhi Puja | Anjali | Prosad Bitoron
Maha Nabami
Thursday 14th October 2021
12PM to 2PM: Nabami Puja | Anjali | Bhog | Bolidan
6PM to 7PM: Homa | Anjali | Prosad Bitoron | Arati
Bijoya Dasami
Friday 15th October 2021
12PM to 2PM Dashami Puja| Anjali | Dahi Karma | Arati | Bisharjan | Sindur Khela (The idols will be moved away after Bisharjan)
6PM onwards: Bijoya Celebration with Cultural Programme and Dinner (there will be no idols in the hall during this segment of the event)
Parking Arrangements
The venue provides parking for 80+ cars and operates a camera controlled parking arrangement which requires you to register for your parking (you do not need to pay). Please follow parking instructions of the venue to avoid being fined. Please speak to our volunteers or registration desk for help with car parking guidelines.
Covid Protocol
To keep each other safe we would request everyone to do a lateral flow test before attending our Puja and avail of our hand sanitisation facilities. For those who have not been vaccinated for your protection and those of others ,please also consider wearing a mask.
About UKHCA
United Kingdom Hindu Cultural Association (UKHCA) is a registered charity ( Reg No 1069932) . The objective of the charity is to promote Hindu culture and education in the community in South East London and Kent, by organising religious and cultural functions. Key annual evens are Durga Puja,Kali Puja, Saraswati Puja and other festivities.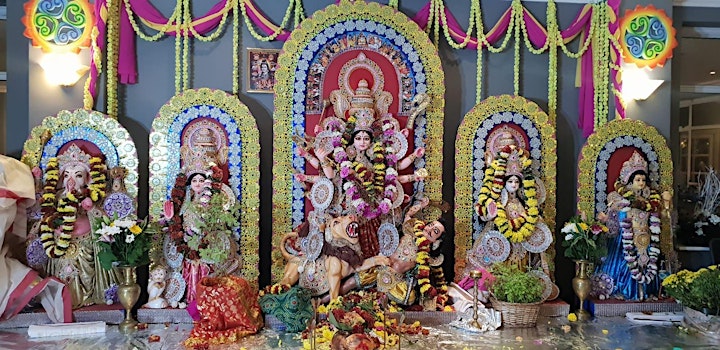 Maa Aschen….