April Networking Event
April 28 @ 7:00 pm

-

10:00 pm

EDT
Event Navigation
Networking for Hindu Professionals
Heal The Planet is a registered 501c3 non-profit organization based in Fort Lauderdale.
Heal The Planet provides free sustainable education, a holistic lifestyle, and environmentally approachable programs.
Their mission is to educate and inspire about the power of our daily choices and how making more conscious choices can have a huge positive impact on the health and wellbeing of both ourselves and our planet.
In celebration of Earth Day this month, they'll be hosting The 8th Annual Heal The Planet Day event on Sunday, April 30 at Esplanade Park.
They gather with our South Florida community for a fun-filled day of activities for the entire family.
This memorable day brings over 2,000 attendees and features dozens of booths with many experiential activities all centered around educating and inspiring our community with how we can Heal The Planet Together.
We have selected this organization as our Charity of the Month because it's values align with that of Hindu principles of taking care of Mother Earth, showing gratitude for all the abundance she provides for us, and preserving her for future generations.
Our contribution will allow Heal The Planet to continue providing life-altering information and experiences to South Florida and beyond, aimed at increasing awareness about nutrition, mindfulness, and consciousness in alignment with a better quality of life and a more sustainable planet.
Through the SEED Program, they have educated over 13,000 kids in South Florida.
The SEED Program is an experiential, hands-on learning program designed to connect children with the natural world and their place in it. It is a series of six (1) hour sessions, either online or in person, taught in public or private schools, community agencies, businesses, nonprofits, and other organizations.
Free Family Event. Fun-Filled Day For The Entire Family
REGISTER TO WIN a Family Pack of MODS Experiences, which includes exhibit admissions and documentary IMAX films.
Activities: Kids Zone: MODS educational booth, Youth Environmental Alliance, Worldwide Web, Transformational Art Projects, Face Painting, and Much, Much More.
Grow Your Own Zone: Learn About Easy and Efficient Ways To Grow Your Own Food.Wellness and Movement Zone: Yoga, Meditation, Holistic Modalities, Singing Bowls.Entertainment: Live Music, Health, Wellness Zone, and Much More.Conscious Vendor Village: Crafts, Clothing, Healthy Food & Beverages, Food Trucks, and More!
https://healtheplanet.com/heal-the-planet-day-2023/Info@HealThePlanet.com
🏆We look forward to seeing all of you for an enjoyable evening of great food, drinks, Networking, and Awareness!
**Gentle Reminders**
-Registration Required (closes 24 hours before event)
-Business attire Required
-No Cash at Door
-Get to know us… Join us!
NetHP is a vibrant, active group of passionate people who are doing the following:
*Providing a multi-purpose platform for college students, emerging professionals, business owners, and leaders
*Educating and Encouraging participation for local causes
*Offering personalized marketing, mentoring, and business referrals
*Volunteering and fundraising as we gather, grow, and give back to our local South Florida community
*Growing this visionary concept of cross-utilizing the experiences, services, and financial contributions of our members to support existing Hindu causes and charities
*Collaborating with other Orgs to bring awareness of our culture and way of life
If you would like to effect change in our community, join our group of active professionals who are bringing Hindus together with purpose and pride.
Instagram: @Net.hinduprofessionals
Facebook: Networking for Hindu professionals south FL
LinkedIn: Networking for Hindu Professionals
Youtube: https://www.youtube.com/channel/UCEkphl5HG_SL-rQdUmIUlkw
Website: https://www.networkingforhinduprofessionals.org/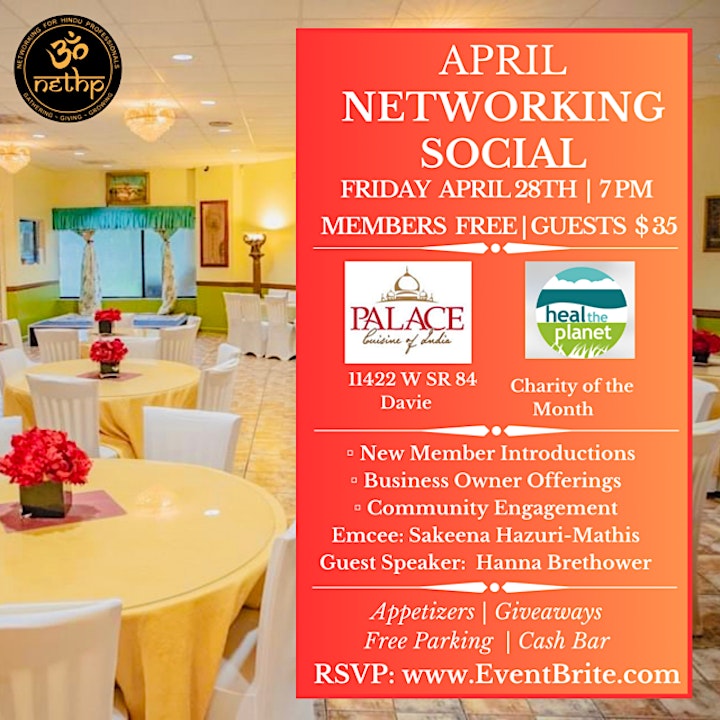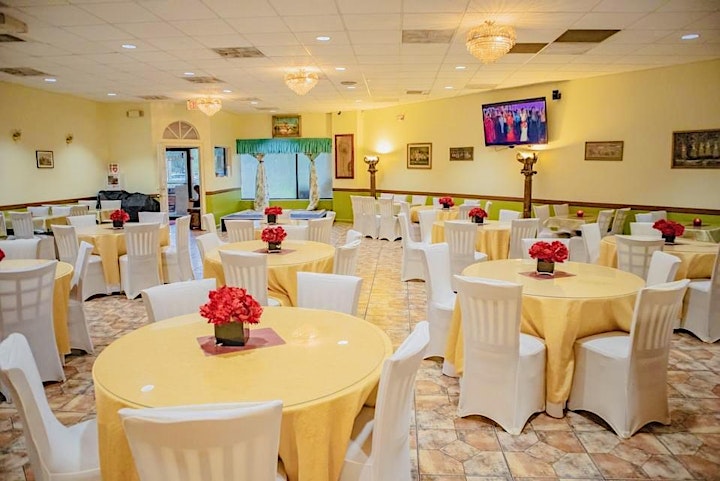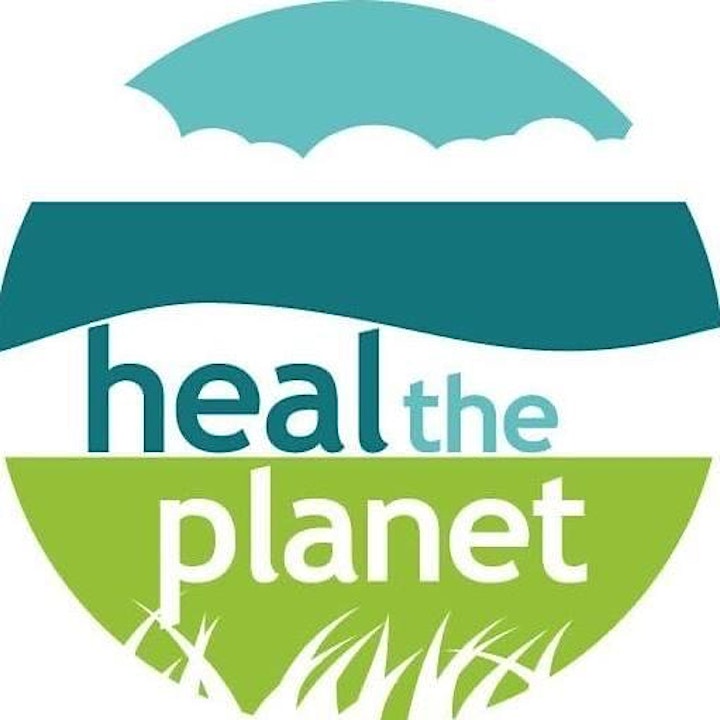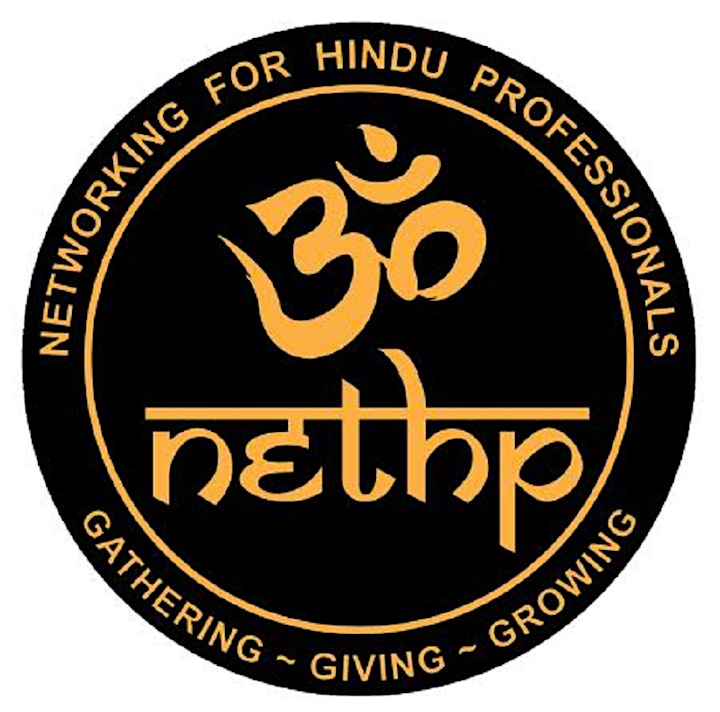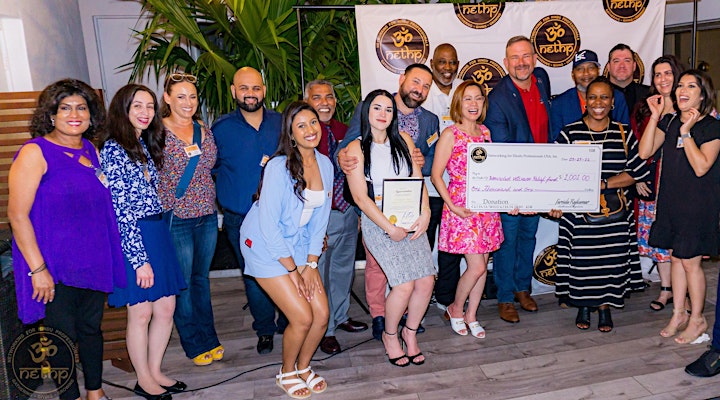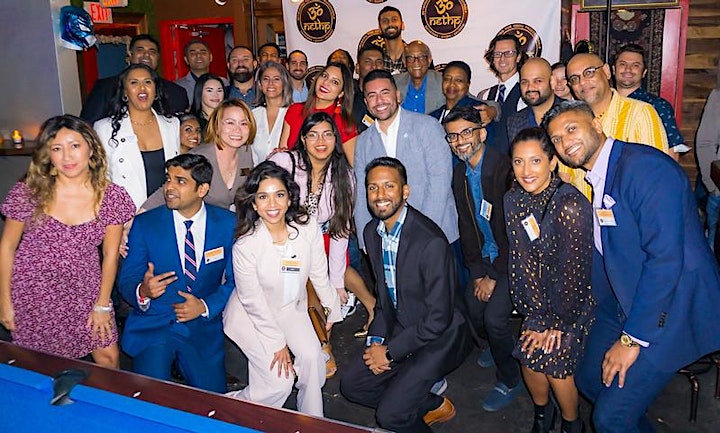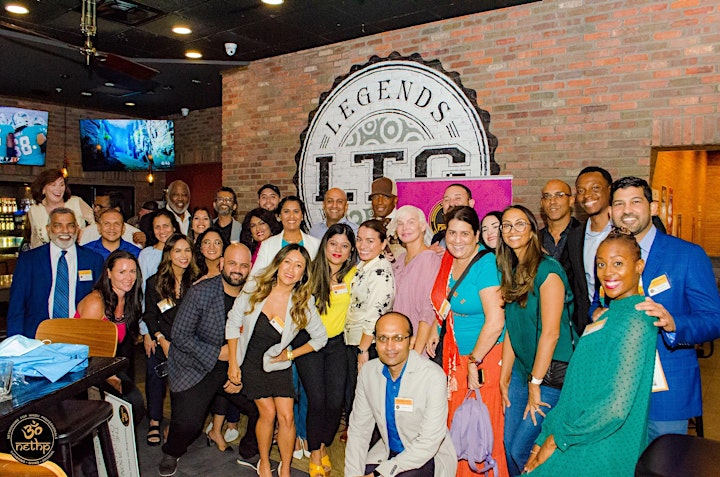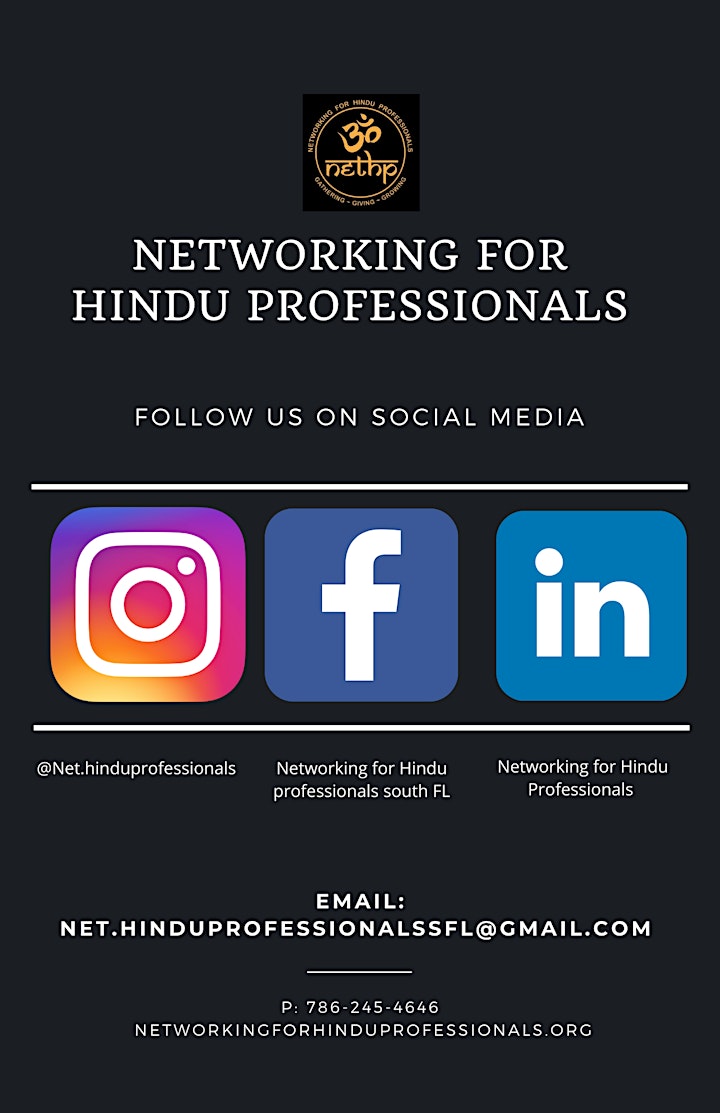 Related Events